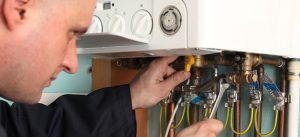 Have you ever given a thought to your plumbing drains? Probably not. That is, of course, until your drainage system starts to back up and creates all sorts of trouble. That's when you realize how important your home drainage system is. You certainly don't have to be a full-fledged plumber to learn how these systems work. And understanding the drainage mechanism could save you a lot of heartache later on.
The first thing to understand about plumbing drains is that its proper name is the drain-waste-vent system or DWV. All drainage systems consist of pipes to drain liquids, usually from sinks and showers. There is also a system to deal with the waste matter from the toilets. These vents are necessary to ensure there is no build-up of sewer gases and that the wastage doesn't re-enter your home. DWV piping works on the principle of gravity, which means that all the pipes would slope downwards, making it easier for liquid waste to drain off. In general, DWV pipes are larger than water supply pipes.
Toilet Trouble
Perhaps one of the most important plumbing drains in your home is the toilet one. The toilet is a place that we always take for granted- that's why any related problem is so hard to handle when the emergency plumbing service starts to act up.
So how does toilet plumbing actually work? The main job of the toilet is to take wastage and gases out of the house. This is accomplished by using a system that pumps fresh water into the toilet while flushing out the waste material.
A majority of plumbing drain issues with toilets happens at the curved area of piping at the bottom of the toilet. These are usually clogs that can be cleared with a plunger- if that doesn't work, you can also use something called a closet auger. If something like a toy or cloth is blocking the area, your best bet is to pull it out rather than push it down.
Down The Drain
The plumbing drains for your sinks and showers are basically a series of pipes that slope downward, using the force of gravity to clear out waste liquids from your house. Like any cleaning outlet, these tend to get blocked or clogged over time. Some blockages occur because of non-liquid items that accidentally fall in the drain- things like jewelry or buttons can start a clog. Other blockages are the result of a natural build-up of soap residue, grime, dirt and grease. This can make a sticky mess that is notorious for clogging plumbing drains. Sometimes the piping itself might be old- in this case, you might need to call in a professional for drain repair and replacement.
So when that sink or bathtub starts backing up, does that mean you would have to pick up the phone for the emergency plumber Cranbourne? Not necessarily- many blockages are small matters that can be handled with a little elbow grease.
First you need to run a bit of emergency hot water Perth down the drain- if a sticky coagulant mess is causing the block, hot water will cause it to dissolve and move along quickly. It's also a good idea to pull out the strainer and remove hair and soap deposits as well. If you're still facing a block, use a plunger- this will usually open up any stubborn clogs in the drain.
Still having trouble? Then the problem could be something that's lodged inside the drain. In that case, you need to use something known as a plumber's snake. Insert this into the drain and push down, in order to loosen the clog. If that doesn't work, turn the snake in a clockwise direction so it grabs the clog firmly. Then pull it up and remove it. Some other tricks of the trade include using a dry vacuum cleaner for its suction power- once this is done, run a good flow of hot water through the pipes to thoroughly clean them out.
When it comes to cleaning out plumbing drains, remember that chemicals aren't always the best option. Not only can they corrode the pipes, there are a number of more environmentally-friendly solutions that are just as effective.